The Queer* Department's mission is to represent queer* students, to intervene in discriminatory processes and to support queer* culture.
As one of the oldest existing units, we act as your contact for everything to do with sexual and gender diversity and identity. Everyone is welcome! It doesn't matter if you're homo-, bi-, pan-, a-, omni- or othersexual, or if you identify as male, female, inter, trans*, non-binary or anything else, we offer an inclusive space for all queer* people. We may be part of the AStA (student representation), but as we are elected by our peer group of every student identifying as queer*, we are an autonomous unit.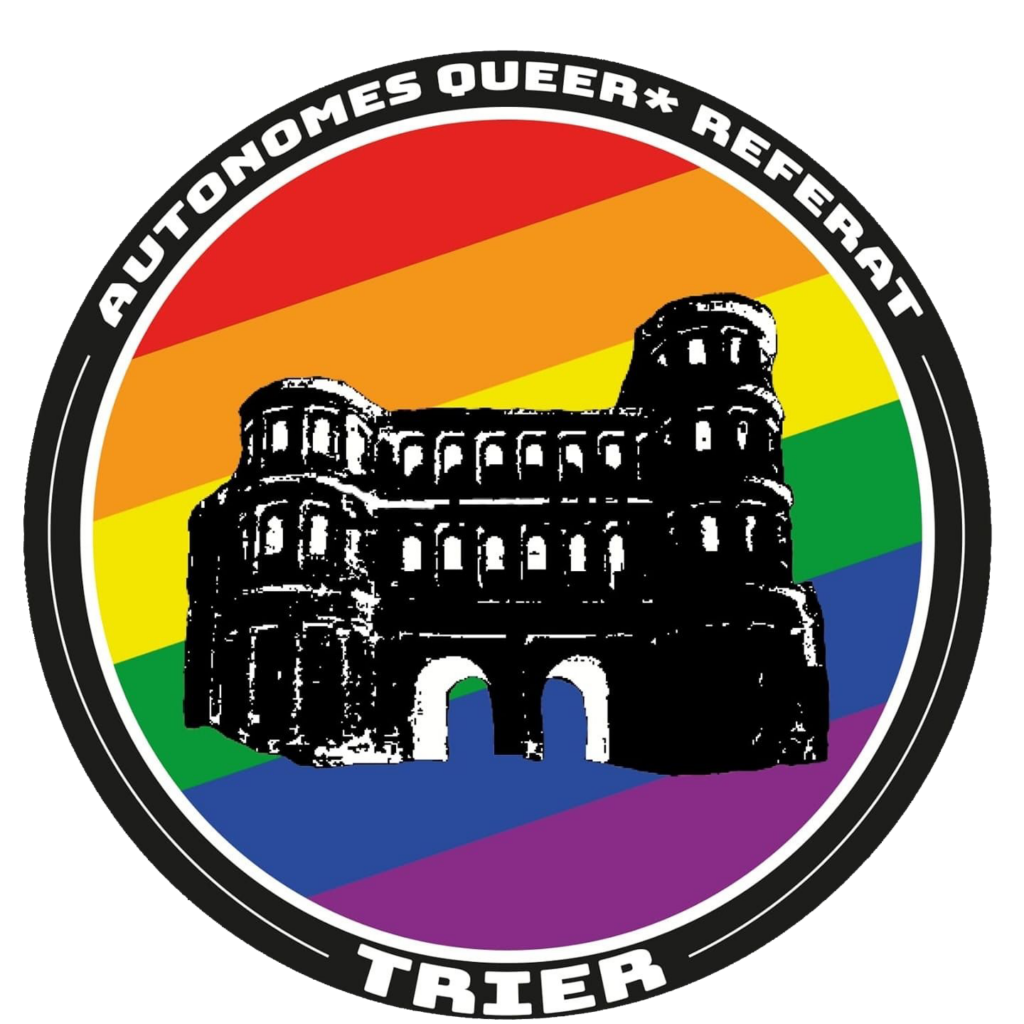 We represent and work towards the circulation and promotion of queer* culture and the scientific discussion of sexual and gender identities. We also point out, and try to interfere in, discriminatory societal processes, and participate in the promotion of anti-discrimination initiatives. Additionally, we are continually working on establishing the queer* community of our university, and giving queer* students a safe space. For this we have created a WhatsApp group (for more see the point "Contact").
For this purpose we plan events, lectures and workshops, as well as leisure activities and socialising events. We also have an extensive library on queer* topics, including textbooks, fiction, comics and DVDs, and we offer consultations in German and English to discuss problems with other students or lecturers.
You're interest in working with us, have some ideas you want to realise, or just have some questions? Our weekly meetings are open to the public (the student body), and take place on Fridays at 4pm during the winter semester of 2022/23. Send us an email for more information!
---
CONSULTATION HOUR
You have a specific problem you want to talk about? Every Wednesday from 2 to 3pm, we offer a consultation hour in our office in the Studihaus. If this time doesn't work for you, you can send us an email and we will set up another time. A digital consultation via video call is also possible. You can also use the consultation hour to browse our library or ask questions about our work.
---
Responsibilities
Queer* Café
Maintenance of our library
HIV-/ AIDS-Prevention / Testing
CSD
"HoMosella" – Queer* Culture Days
Organisation of lectures, workshops und readings
Organisation of our monthly champagne receptions
Consultation
Networking with Schmit-Z, AIDS-Hilfe, Aktionsbündnis gegen Homophobie
Exercise of the AStA-membership in the regional AIDS-Beirat and QueerNet Rheinland-Pfalz

---
Staff
Main Representative
Leah Brand (she/her; he/him)
Co-Representatives
Fabian Heyduck (he/him)
Ronja Ilinzeer (she/her; they/them)
Jörg Ketelsen (he/him)
Robert Roth (he/him) 
Contact
Studihaus Room 112 (gallery left side)
Office Phone: 0651 201 3575
E-Mail: astarosa@uni-trier
Facebook: @queerreferat
Instagram: @queerreferattrier

WhatsApp group: Please contact us if you want to be added to the queer* WhatsApp group!
Consultations (WiSe 22/23): Every Wednesday, 2 – 3 p.m.
---
QUEER* CAFÉ
Our café offers the opportunity to meet people, find new friends and to take a break from university life (organized by students for students)!
In the winter semester of 2022/23, the café will take place alternately on Tuesday, 11 am – 1 pm, and Monday, 1 pm – 3 pm. We start on Tuesday, the 25th of October.
We offer coffee and tea, and we're always glad for a donation of cake, cookies or other snacks!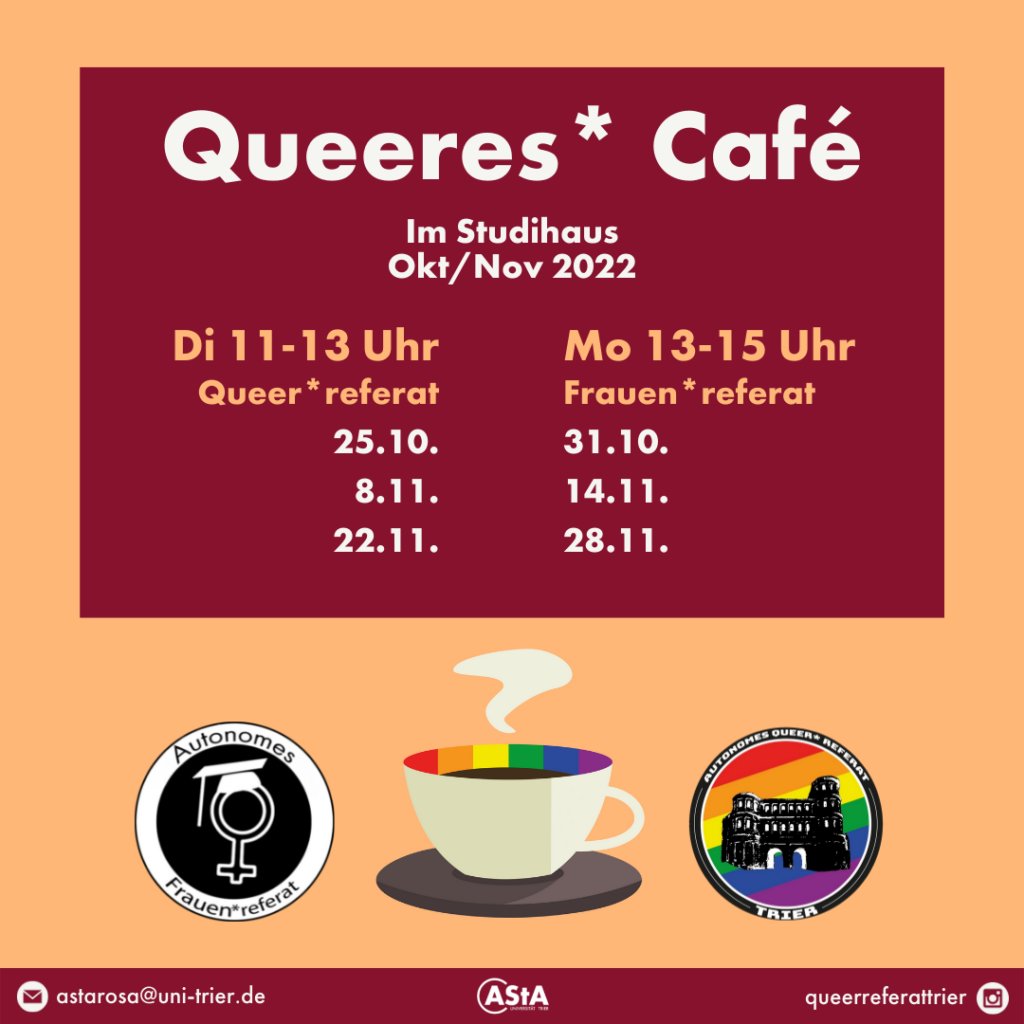 ---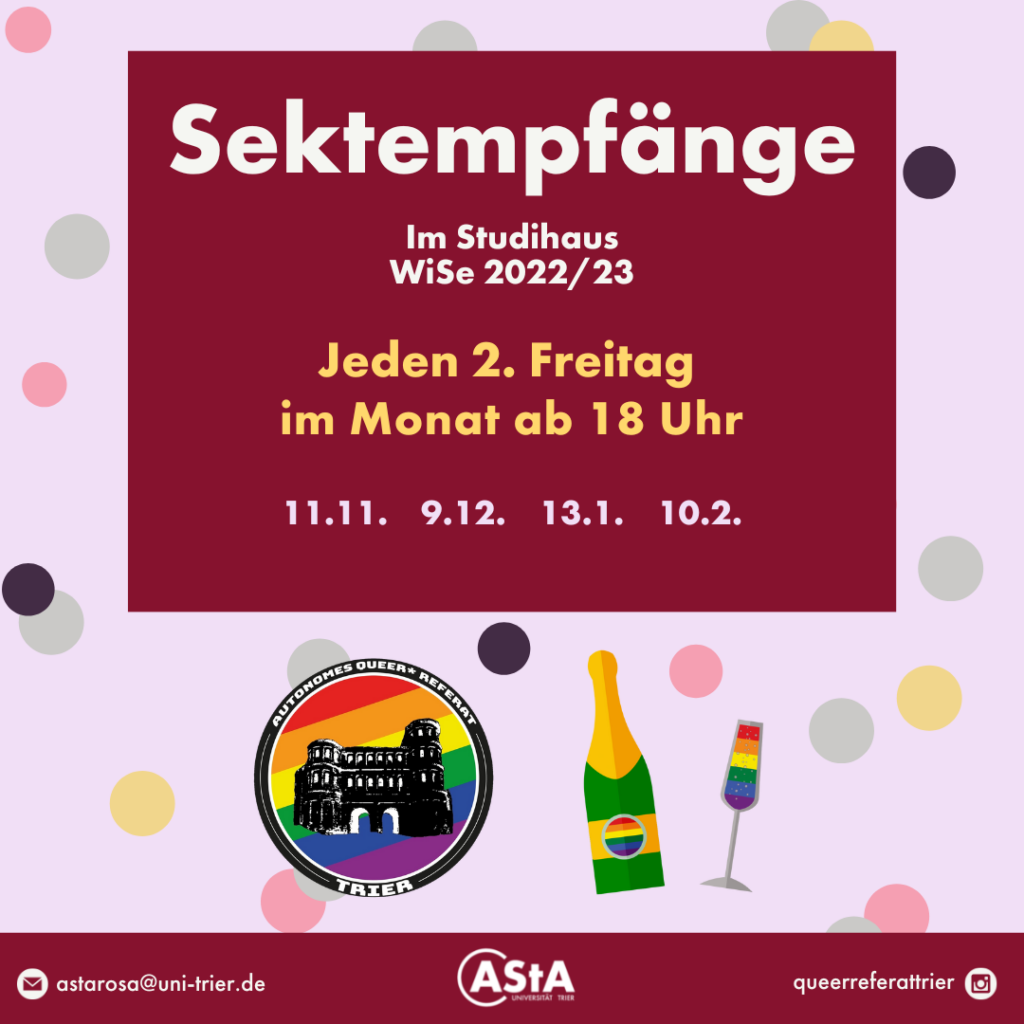 Champagne Receptions
Once a month on the second Friday at 6pm, we offer a champagne reception. This is a safe space for all queer* people to celebrate and meet new friends.
Entrance is free, but we ask you to bring a little donation or some snacks to share, so we can keep offering these receptions!
---
LINKS
Downloads